"

Nothing short of spectacular, played by two of the best twin [fiddle] players in Canada today. Thanks Jane and Kyle!"
— Graham Sheppard (Past President, Canadian Grand Masters Fiddling Association)
Bio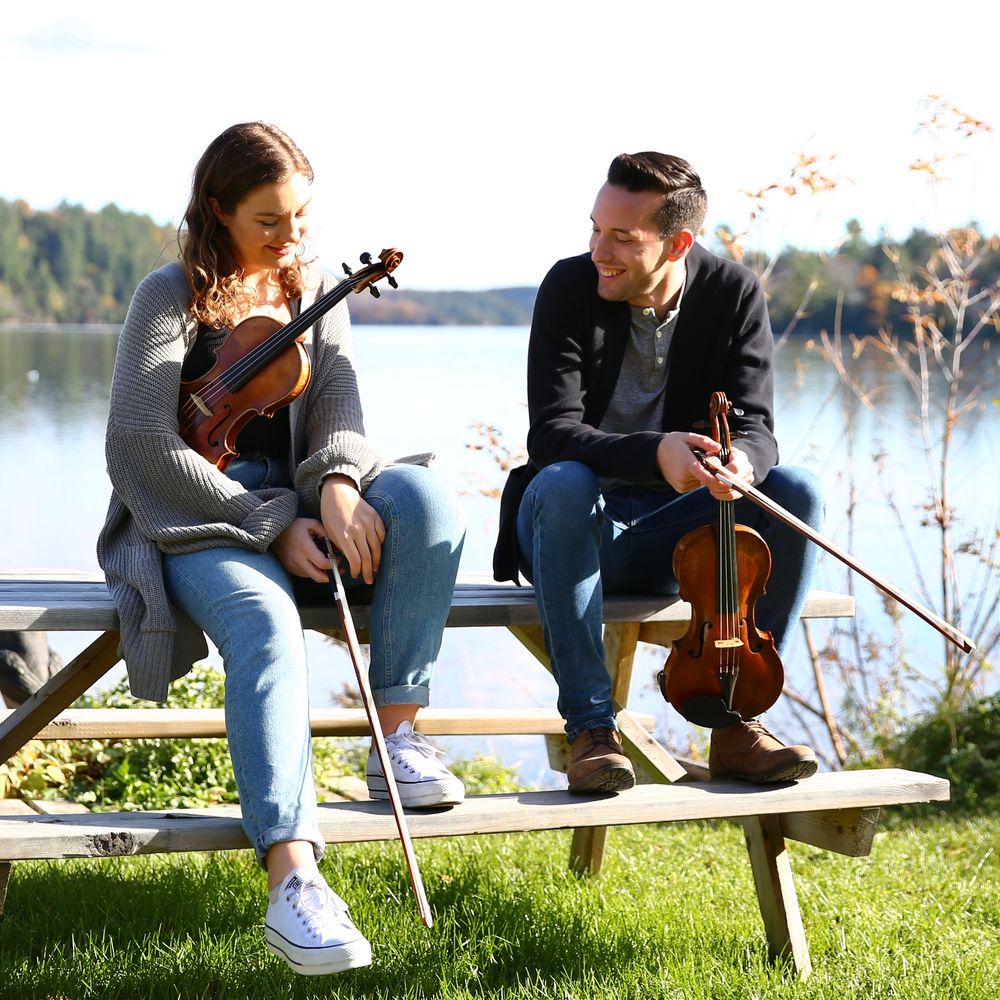 Canadian fiddle champions Jane Cory and Kyle Burghout have been performing for over a decade, and have played to audiences across Canada, the USA, and Europe.  Each with many accolades to their credit—Jane a Canadian Grand Masters Fiddle Champion, and Kyle a North American Irish Fiddle Champion—they join forces to create innovative arrangements filled with lush twin fiddle harmonies. 
Both growing up in areas with rich fiddling traditions—Jane in Manitoba and Kyle in the Ottawa Valley—their shows feature a blend of the traditional tunes they grew up playing and contemporary tunes written by fiddlers from across Canada and beyond, including many compositions of their own. 
Jane & Kyle perform with Cape Breton pianist Tyson Chen and with 5x Canadian Open Step Dance Champion and guitarist Kyle Waymouth. All four musicians are also available to lead workshops in fiddle/piano/guitar/step dance.
Performance Highlights
Festival du Voyageur, Winnipeg, MB (February 2022)
Gatineau Hills Fiddle Festival, Chelsea, QC (October 2021)
Tunes on Tap @ Copper Bottom Brewery, Montague, PEI (September 2021)
AlgomaTrad, St. Joseph Island, ON (August 2021)
Goderich Celtic Roots Festival, Online (August 2021)
Manitoba Arts Network Stay at Home Festival, Online (March 2021)
Folk Alliance International, New Orleans, USA (January 2020)  
Manitoba Showcase, Gimli, MB (October 2019)   
Canadian Grand Masters Fiddling Championship, Abbotsford, BC (August 2019)  
John Arcand Fiddle Fest, Saskatoon, SK (August 2019)  
RBC Ottawa Bluesfest, Ottawa, ON (July 2019)  
Burdick Center for the Performing Arts, Dunseith, ND, USA (June 2019) 
The Park Theatre, Winnipeg, MB (May 2019)  
Burdock, Toronto, ON (May 2019)  
LIVE on Elgin, Ottawa, ON (May 2019)
Sample Tracks
0:00/4:33

0:00/4:46

0:00/3:13

0:00/3:59

0:00/4:21
If you require .mp3 or .wav files of any tracks, please email info@kyleburghout.com and we will happily provide them.